The Body Shop was having a sale where you buy a five dollar bag and everything you fit into the bag is half off. So instead of paying 16.50 for it I got it for 8.25 not including tax. I thought this was a pretty good deal so into the bag it went.
The Body Shop says:
Cheat a little. Deep cleanse, exfoliate and purify your skin in one easy step with a 3-in-1 mask that leaves skin clean, smooth and balanced.Community Trade blue corn powder gently exfoliates skin, removing dead skin cells, excess oils and dirt.Kaolin clay revitalizes and deeply cleanses, drawing out impurities from the skin.Corn oil moisturizes skin.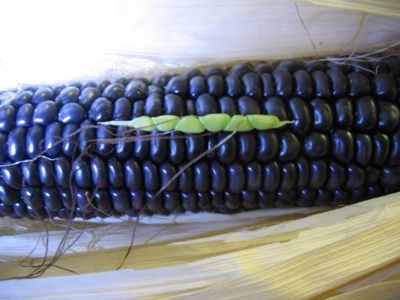 Umm...so I don't know what Blue Corn is but apparently it's good for your skin and it helps the Native American community. I should probably research it. I put a picture of it above. I wonder what it tastes like. But back to the review, the first thing I noticed was the scent. It's very perfumey but after awhile I got used to it. The texture is a very fine exfoliant that acts like a mask.
For some reason I tend to go for more cleansing masks, and the added exfoliation was a bonus because it helps to really smooth my skin. (results don't last long). My face is super smooth for a day, then smooth, and by the third day it's not so smooth anymore. But I do like the cleansing and exfoliating aspects of it, because my facial cleanser didn't seem to suck every last bit of moisture out. The first couple of times I noticed that my skin seemed oily after this mask (I thought my skin would feel dried out) but as I continued that went away. Oh yeah, and although it seems rather small (4.1 ounces) a little bit of this stuff truly goes a LONG way.

I find that using it twice a week is best, but it is possible to use it only as an exfoliant by rinsing it away as soon as you apply. You can change how much your skin is exfoliated by changing the amounts of water you have on your face, the less water the harsher the scrub and the more water the more gentle.
Ingredients:
Water, Kaolin, Blue Corn Powder,
Glyceryl Stearate SE,
Zea Mays (Corn) Oil, Glycerin
, Alcohol Denat., Propylene Glycol, Blue Corn Extract, Phenoxyethanol, Benzyl Alcohol, Panthenol, Methylparaben, Bisabolol, Propylparaben
, Citrus Grandis (Grapefruit) Seed Extract, Cananga Odorata (Ylang Ylang) Oil, Geranium Oil, Limonene, Achillea Millefolium (Yarrow) Extract, Citrus Aurantium Bergamia (Bergamot) Oil, Linalool, Neem Leaf Extract,
Ascorbic Acid, Citral, Titanium Dioxide, Blue 1, Red 33.
The ingredients are mainly good, there are a few that I worry about. But you can't have everything.
So in conclusion this does everything it said it was going to do and I like it. If the description sounds like something you are looking for in a mask then I definitely recommend it. For myy next mask-which isn't gonna be for a long time since this lasts so long- I think I want something skin brightening. Any suggestions?