Mmmm. Pink Grapefruit!! I love Pink Grapefruits. I could eat them all day. In fact I could even eat white grapefruit all day. So when I saw this I just knew I had to have it. It cost me about four euros which is around six or so dollars and you get 8.4 ounces.
The Body Shop:
Cleanse and soften your skin with an invigorating, soap-free gel that creates loads of tangy grapefruit-scented lather.Pink grapefruit seed oil provides essential fatty acids to repair skin's moisture barrier, so it feels smooth and supple.Community Trade organic honey moisturizes and conditions skin.
So when I smell this, I really do think of this...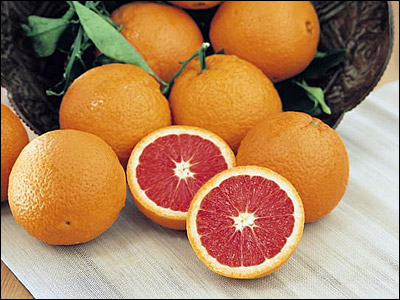 Mmmm zesty! For soem reason it also has a sort of room spray note but it's not bothersome. I really do like the scent. It does seem to wake my brain up a little during my shower. It's kinda watery though. And it seems to dissapear really fast.If you get a headached from strong scents though you might wanna stay away.
Like all other Body Shop shower gels this one won't linger (unfortunately). I do notice that the lather is a little bit stronger that in some of the others and if you have dry skin this is just a tad drying. Well not drying exactly but just not moisturizing.
Ingredients:
Water, Sodium Laureth Sulfate, Cocamidopropyl Betaine, Fragrance, Sodium Chloride, Phenoxyethanol, PEG-7 Glyceryl Cocoate, Benzyl Alcohol, Sodium Benzoate, Methylparaben, Benzophenone-4
, Citrus Grandis (Grapefruit) Extract,
Citric Acid, Disodium EDTA, Butylparaben, Ethylparaben, Isobutylparaben, Propylparaben, Denatonium Benzoate, Red 4.
As with all the gels the ingredients, they could be much more natural, but I know the deal with Body Shop's shower gels.
If you love grapefruit try it. If not, skip. I want to try Softsoaps version because that one is much cheaper and you get more for your money. I also have the scrub and the body butter but I have not tried them yet. When I do, Ill be sure to give a review.